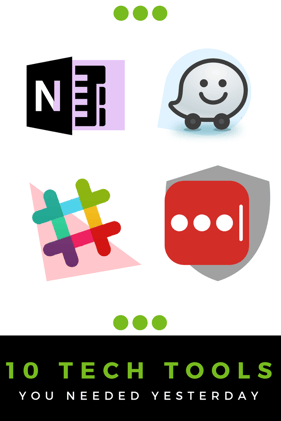 Technology was created to provide efficiency and ease to ordinary tasks. Here are 10 day-to-day tech tools you needed yesterday.
Don't want to read through this whole blog? Download the short breakdown of each tech tool, along with website links with our free infographic!
Waze
Even when you know where you are going, and you think you know the best route, Waze is still worth using. Waze documents traffic, accidents, and construction so users can leverage technology during their commute. Think of it this way, if you save one minute on a commute you drive twice a day, every week, 250 times a year, you get an entire business day back.
OneNote
Rather than keeping notes on your desktop, email reminders, or sticky notes, use OneNote to store all of your ideas and projects. This application helps users to organize thoughts while simultaneously storing and saving their notes. There are many useful add-ons with this application, such as the ability to drag-and-drop presentations for note-taking, allowing multiple users to work on one document at a time, and translating hand-written notes into digital text.
LastPass and DashLane
If you use the same password for everything, it's time to break the habit. These applications are used for the efficient documentation of passwords. As you navigate your browser and type in passwords, the applications will ask to save the passwords. This results in the creation of a secure document, filled with passwords specific to each account users are in control of. Applications such as these also allow for multifactor authentication.
Google Authenticator or YUBIKey
Rather than putting all of your eggs into one basket, Google Authenticator generates a one-time username, password, and a one-time code to protect applications such as LastPass and DashLane. If a password happens to get stolen, this tech tool will continue to secure all other accounts. Yubikey has the same purpose, but is hardware based.
Prey
Prey is a personal mobile device manager. This is a simple way to track and control personal devices. If a user loses their phone, they have the ability to find it, or even wipe its data remotely. This tool can be compared to Find My iPhone, but it can be utilized across all devices.
Slack
Sick of a consistently full inbox? Here is a quick alternative to email. Slack helps employees chat with each other, rather than send emails back and forth. This application has a universal search, not limited to time, so information can be attained quickly. Users can also create channels with each other to promote different topics of discussion. The overall goal of this tool is to eliminate the clutter of email, and promote instant internal communication.
Google Hangouts, Google Voicemail
This tool helps provide a controllable filter between users, their phone, and their phone calls. This helps to alleviate the stress of answering unidentifiable phone calls, by prompting callers who are not in your contacts to say their name. Prompting users to say their name helps block automated callers, which in turn filters sales calls and telemarketers who are calling consistently. This tool also transcribes voicemails, and allows text messaging and phone/video calls from your computer.
Follow-Up Then
This service helps users to follow-up on their emails. When users send a carbon-copy on an email, this tool sends a copy of the email back to the user at the time and date specified in the original email. This helps when delegating tasks, setting appointments, etc.
simplynoise
Listening to music while working can be very harmful to production and focus, as well as refusing to listen to anything at all. This tool provides white noise to help users focus solely on the project at hand, rather than listening to music or side conversations going on around them.
F.lux
Working all day on a computer, or working late at night is bad for your eyes and can mess up your circadian rhythm. This tool helps to alter the colors on devices by changing the color balance slowly throughout the day as the sun sets.
The best part about these tools is that they are little to no cost, depending on the plan users choose. See a tech tool you like? Let us know your favorites below.