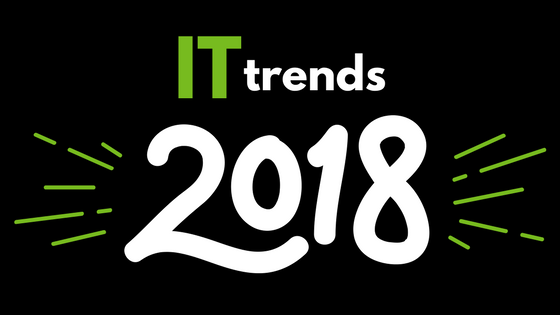 Can you believe it? It's almost the end of 2017. We all made it through another year, but the end of one year means preparation and expectations for another.
Here are some IT trends to watch for in 2018, according to a research conducted by Gartner, reported on by Cisco.
RELIABLE NETWORKS
2018 will bring about new ways to streamline IT environments within organizations. Outlining new ways to manage networks so that they are consistently meeting the requirements and needs of businesses will be a huge focus for the next year. It will bring a forward push to continuously improve the user experience and overall network reliability.
UNTRADITIONAL IT
The world of IT is gradually moving in a different direction than previous years, and that will continue to be the case in 2018. As stated above, Managed Service Providers are not only focusing on the hardware and software of an organization, they are also focusing on increasing user satisfaction as well. What once was tickets on a board is now a team of engaged engineers actively asking themselves how they can best solve technical problems while improving the bottom line of the client. Reputation driven, customer focused.
OPTIMIZATION
In 2018, there will be a continuous push for optimization in all aspects. Success is hidden in the gap between those that understand technology is simply a vehicle, used to advance the needs of the organization farther & faster. Having a team in place that can analyze performance and configurations to regularly improve the business processes will help companies to reach success in the new year. Making sure all IT tools are being used in a necessary and efficient way will help to optimize the entire IT environment.
Information Technology is an everchanging industry. Head into the new year with confidence in your IT team, and continue to grow the success of your business throughout 2018.
Need a refresh on computer habits you should be practicing before the start of the new year? Click below for a free infographic full of Good Computer Habit Tips!