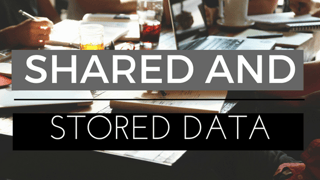 Gone are the days of carrying around flash drives in your pocket to provide a coworker with shared files. Everything is now at the click of a button, the movement of your mouse. In seconds, files are automatically synced, and you can continue with your day.
This is significant, this is efficient, and the ability to do this is completely underrated in society today. We want to breakdown the importance of "cloud computing."
STREAMLINED PROCESSES
Having consistent access to team files helps to streamline processes. Since there is always a constant flow of information, teams must stay organized. It is easier to carry out processes when you aren't trying to track down certain pieces of information.
TEAM MENTALITY
With stored and shared data, team members no longer feel out of the loop. If teams use their servers and data storage hubs efficiently, information is not limited and team members have the capability to prevent miscommunication. Everyone becomes a part of the process.
FORGET THE OLD DRAFTS
The most updated drafts can be saved directly to shared folders, and "Draft 1, Draft 2, Draft 3" emails begin disappearing from your inbox. Everything is updated and concise, which saves time and stress when trying to access a document.
Stored and shared data may be a common technical aspect of businesses, but it's a very crucial component to business success.
To learn more about stored and shared data, download our free infographic below to share with your team!