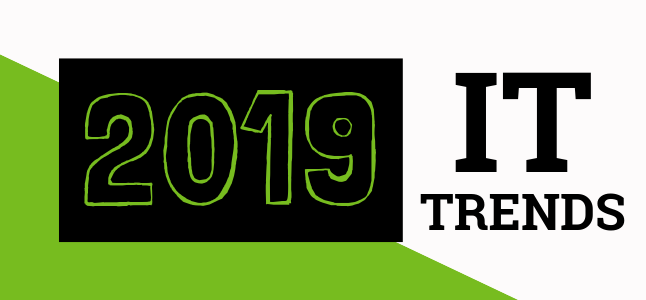 The tech world has been taken by storm since Gartner released research about the top 10 strategic tech trends of 2019. It's always intriguing to see what the next year has in store for technological advancements, and can also be very helpful in keeping your business competitive.
Below are top trends we pulled from the Gartner study to keep an eye on in 2019. These are based on research that highlight "changing or not yet widely recognized trends that will impact organizations through 2023."
ALL THINGS AI
AI has been on the radar for several years now, and is now being used on autonomous things to perform tasks that are normally done by humans. Examples of autonomous things being impacted by AI are: robotics, vehicles, drones, appliances, and agents. This is expected to increase in strength in 2019 and beyond. An AI-related tool that might be more relevant to your business are chat bots. This technology is becoming more and more prevalent in the way users seek information and make requests. Chat bots are expected to improve immensely in 2019 as users continue to rely on them. According to a recent study conducted by Spiceworks, within the next 12 months 40% of large businesses, 25% of mid-size companies, and 27% of small businesses are expected to implement chat bots into their communication strategies.
Data reporting and collection is extremely helpful in measuring business success, which is where augmented analytics come into play. Through automated algorithms, more conclusions can be drawn where it might have previously been missed. Generating analytics will become easier than ever before, and according to Gartner, by 2020 more than 40% of data science tasks will be automated. Bias will be removed, and data insights will become more readily available.
THE MIX OF DIGITAL AND PHYSICAL WORLDS
Gartner states that this next year will raise more opportunity for the blending of the digital and physical worlds, in order to create a more immersive world. These two worlds will be blended in several ways, one being through immersive technologies such as augmented reality (AR), mixed reality (MR), and virtual reality (VR). Gartner predicts that increased productivity will occur in both VR and MR, VR technology will increase its' ability to sense shapes and track user's positions, and MR will enable people to interact with their world. According to the study, by 2022 70% of enterprises will be experimenting with immersive technologies.
"Digital twins" are also a prediction expected to slowly arise in the upcoming year and advance in future years. This is defined as a digital representation that mirrors a real-life object, process, or system. These will become more advanced as they will provide a focus on improving specific business outcomes, real-time monitoring and control, driving new business opportunities, and the evaluation of "what if" scenarios. An example? A business model or process will be moved from a white board in a board room meeting to a process that is tracked and implemented completely through business technology.
BUSINESS PRACTICES
As information grows more and more valuable, keeping information private will increase in importance. Gartner states that privacy must be rooted in ethics and trust. "The conversation should move from 'Are we compliant?' toward 'Are we doing the right thing?'. Digital ethics and privacy will continue to grow in importance and relevance, especially for businesses.
Gartner defines a smart space as a physical or digital environment in which humans and technology-enabled systems interact. These smart spaces are predicted to increase momentum in the next few years. Smart spaces are all about the collaboration of technology to create an interactive environment for the user. These will be used to connect businesses to their communities, and will drive more social and community collaboration.
The overall theme we are seeing from this study? Interaction. Technology is only going to increase the amount of interaction it has with users and other pieces of technology as the years go by, and 2019 will be no different. Continue keeping your business competitive by staying on top of the latest, most relevant technology to your industry, and don't be afraid to try new things that will streamline your processes.
Technology is always going to outgrow previous expectations, and we can't wait to see what the future holds.
Want to focus your time on business continuity and planning ahead? Click below for our free presentation slide deck about planning for the worst, to keep you at your best.