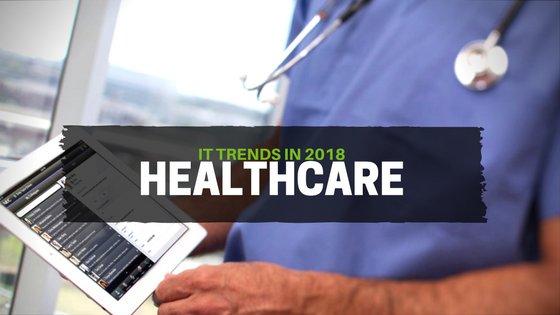 2018 is finally here, bringing new innovation and trends for healthcare technology. The International Data Corporation FutureScape conducted research and developed predicted IT trends for the industry in 2018. We'd like to share our insights on 3 of these key predictions that will strongly impact healthcare IT this year.
MOBILE ENGAGEMENT
Mobile technology is growing rapidly, and will only continue to expand in 2018. According to Health Data Management, digital mobile engagement by patients and providers will increase by 50% by 2019, which means we will be seeing consistent advances in mobile technology this year. Individuals on both sides of the healthcare industry will begin to access medical information on their phones or tablets, which will facilitate new forms of communication. Maintaining patient privacy on mobile devices, as well as application navigation will need to be a priority.
SELF-REPORTED MEDICAL DATA
Patients are gradually starting to become reporters of their own medical data through online patient portals to save time filling out paperwork at the office. The patients themselves are beginning to have the ability to play a role in their medical care by generating their personal data within healthcare systems. This will help them feel more in control of their medical history as they have the information they need at the click of a button. The data that is stored and collected over time will help providers determine a more personalized treatment plan for each patient. The technical aspects behind the scenes will need to be efficient and accurate to utilize these mass amounts of data.
SHARED INDUSTRY DATA
By this time next year, it is likely healthcare companies will have begun to utilize their data and studies to share across their industry. This will help to provide real stories and evidence that may help solve similar medical cases or advance current treatments. This availability of information will push the industry to innovate and grow. IT will play a role in maintaining the quality, security, and ease of access to this information as it is collected.
All of these adjustments will result in IT teams needing to continue to streamline healthcare technology environments so that privacy, security, and productivity are maintained during the technical advances throughout 2018 and beyond.
Want to learn more about remaining privacy compliant with Healthcare IT? Sit back, grab some popcorn, and enjoy the free Five Nines presentation on Privacy - Technology in Healthcare.