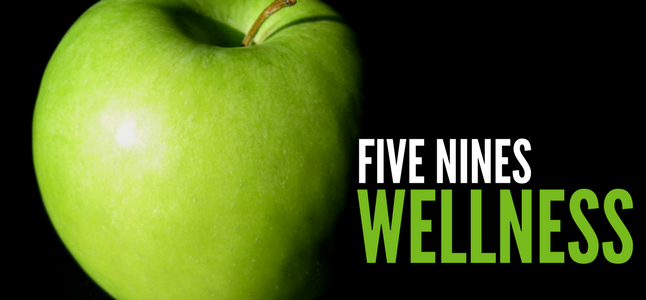 We are on Week 5 of our latest Five Nines Wellness Challenge! It's a challenge filled with a focus on eating the right food, being proactive about being active, and leaning on Five Nines team members to stay accountable.
Here is a breakdown of our latest Wellness challenge:
FOODLOGGING
Five Niners have been using the MyFitnessPal app to consistently track what they have been eating over the past 6 weeks. Each week employees are given a new nutritional challenge, whether that is to add another serving of vegetables to their daily diet, or take away added sugars for an entire day. Advice and recipes are also shared each week to promote creativity and variation that gives Five Niners new and healthy foods to try.
STEPS/ACTIVITY
Monitoring steps and time in the gym is also another goal for Five Niners throughout this wellness challenge. One goal that employees can choose is to log over 10,000 steps each week during the 6 week time frame. Another goal option is to visit the gym no less than 25 times during the quarter.
Our hope is, through these challenges our Five Nines team can be more intentional about their everyday health. We have learned the most successful way to be intentional is to set goals and have an accountability partner. We know a healthy lifestyle will look different for every person, which is why there are a variety of options to explore. Each quarter, Five Nines will bring awareness to a different area of wellness; Nutrition, Mental Health, Physical Health and Financial Health. By focusing on these areas, we hope to make life better for our team and their families.
We have enjoyed this extra boost from our Wellness Committee that has enticed all Five Niners to take some time to focus on themselves. We even got a great Banana Cake recipe out of the challenge.
Here's to a healthy and happy 2018 from our team to yours!
Now that we have your attention, do you want to learn more about the Five Nines Difference from a partnership perspective? Click below.