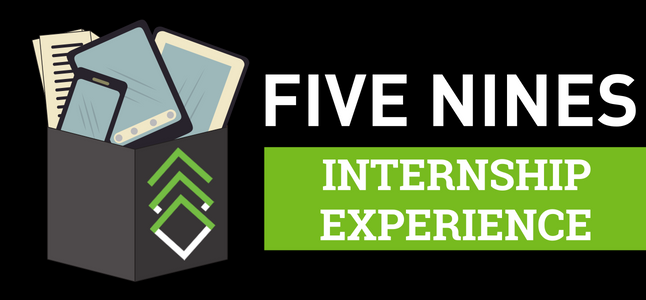 Five Nines spent time searching all over Husker Nation for the go-getters, the self-starters, and the individuals who were full of ideas. Other criteria of this search? Five Nines was looking to hire students to become a part of the first official Five Nines Internship Experience.
The Five Nines team worked hard to develop an internship plan that would give young professionals the opportunity to shadow and learn about all aspects of a Managed IT Services business. The internship program was designed, first and foremost for the interns, so that it can be a valuable use of their time and efforts over a 12 week period.
Director of Human Resources, Taleena Stanbrough: "Our primary focus was to provide a developmental opportunity for students who are passionate about what we do. We feel we have amazing people with incredible minds, top-notch clients and an environment that is collaborative and fun. It's truly a perfect recipe for an extraordinary internship experience."
Through this internship experience, the Five Nines interns will have the opportunity to gain exposure to how IT environments operate, develop an understanding of the various roles a Managed IT Services organization possesses, shadow projects in an energetic team environment, and have the chance to learn new IT skills from some insanely smart Five Niners.
Taleena: "Developing the youth in our community is our social responsibility, and we are better equipped to do that now more than ever before. We love what we do, and want to share that with students who are passionate about the same things. They will bring us new perspectives, fresh ideas, positive energy, and the team at Five Nines could not be more excited!"
The Five Nines interns seem pretty excited about their new gig, too.
"I'm most looking forward to seeing what the engineers do to support and service their clients. I want to learn as much as I can from them, so that I can have the skills to succeed in this industry."

-Larry, University of Nebraska-Lincoln

"Through this internship I hope to gain a vast knowledge of the inner workings of the IT field and how Five Nines functions as a successful business. Using the information that I will gain will bolster my IT experience so I can add it to my skills and resume."

-Jake, University of Nebraska-Lincoln
These new Five Niners will not only become part of the Five Nines work family, they will get the chance to see how an Outsourced IT Provider can support clients across all industries from day-to-day support to project work. They will also have the chance to practice their foosball skills with fellow engineers over lunch.
Taleena: "The Five Nines interns will leave here with a better understanding of who we are as a company, and why we believe in what we do. In turn, our hope is they will understand themselves better as a professional and a person and be better equipped to navigate their journey outside of college."
Welcome to the first Five Nines Internship Experience, Larry and Jake!
For an inside look at what makes Five Nines different, click the button below.