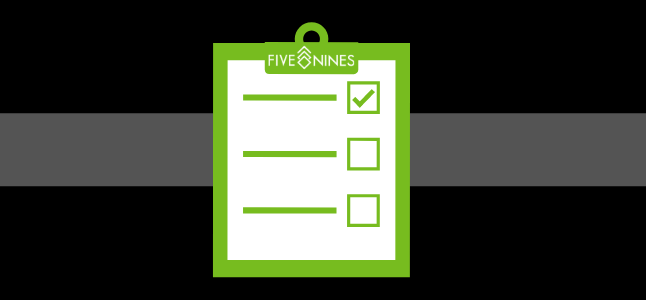 2019 is the year to make your technology a business asset if it isn't already. Sometimes, that can be easier said than done. Just like you set your new year's resolutions, however, you can set your IT goals now to implement throughout the year.
If you'd like to skip straight to a Five Nines Power Hour about utilizing your IT as an asset, click below:
Now that it is officially the new year, it's time to set your IT goals. Here's how you can set attainable goals, budget for your technology, and make your IT an asset in 2019.
SET ATTAINABLE AND MEASURABLE GOALS
To set attainable and measurable goals where you will gain the most benefit, you must first set your IT priorities. You may want to put a strong focus on your IT security, or improve your internal/external processes with specific pieces of technology. Maybe, you want to give your company a competitive edge by utilizing IT to decrease downtime. You could also put a focus on the current IT trends that drive business efficiencies such as Wi-Fi networking technology, IT automation, or updating your IT infrastructure and software.
According to the 2019 State of IT study, larger organizations (5,000+ employees) are more likely to adopt newer technology trends because of their needs and budget size. Smaller organizations, however, are trying to improve their current infrastructure and processes. Be sure to set goals that are a good fit for your organization, and focus on how you would like to see your business technology compliment organizational success. Ensuring that all goals are able to be measured and tracked is also a key component to this process.
Related: IT Strategic Planning for 2019 and Beyond
BUDGETING AND PLANNING
Goal implementation is best complimented by budgeting and planning. It may be helpful to sit down with your IT team to develop a preliminary 1/3/5 year budget plan, so you have a direction of where your business technology is headed. According to Spiceworks, the need to upgrade outdated IT infrastructures is the biggest driver of IT budget increases in 2019. With a budget plan, you will have the ability to anticipate these expenses before they happen.
After surveyed, 89% of companies expect their IT budgets to grow or remain steady in 2019. This year, smaller businesses are making significant increases to their hardware budgets, while large enterprises are increasing their cloud budgets. While both are valuable, it all depends on your type of organization. Just as you set goals that are right for your business, you must also allocate an appropriate budget plan as well.
MAKE IT AN ASSET
To make your IT a true organizational asset, put a strong focus on planning, tracking, training, and documentation when trying to meet and plan for your tech goals.
Internal IT Audit: Audit your current IT environment by determining what resources you already have, as well as what you may need in the future.
Disaster Recovery Plan: If something were to go awry, is your data backed up and secure? Take the time to develop a detailed disaster recovery plan that you can follow in the event of an emergency.
User Awareness Training: Train your users on best practices when navigating the web, or how to spot potentially malicious emails.
Consistent Strategic Planning: Take time each quarter to strategically analyze your business technology, and track the progress of your goals.
Documentation: Be sure to document everything, whether it is consistent tech issues that arise, metrics that coincide with your goals, or your month-to-month budget.
While it may seem like a lot of preparation, the more you put in to your business technology the more you will gain from it. Make 2019 your year to set and achieve the tech goals that will benefit your organization. Don't want to do it all alone? Click here.
What does it look like when IT becomes an asset? Click below for the free Five Nines Power Hour "IT As An Asset", as we dive into IT responsibilities, service requests and security, as well as technology standards, budgeting, and IT training and knowledge.