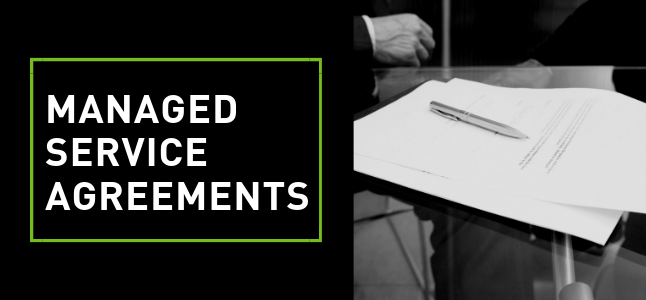 Change is hard.
Ask any business owner and they'll tell you that the slightest change can cause ripple effects throughout an organization if not properly administered. Changing the way you manage and maintain your IT is no different, which is why it's important to understand the details of your new relationship with a managed service provider.
MSP's, like Five Nines, offer a varying degree of ways they deliver services to their clients. Because of this, understanding the agreements in place will ensure there are no surprises as the relationship progresses. Here are a few different things to keep in mind when reviewing a managed service agreement.
Service Model
Generally, there is a flat monthly fee you will pay all managed service providers. The recurring amount you pay covers a differing amount of service delivery models.
Time & Materials (T&M): these agreements are generally a smaller (think retainer) monthly fee, with additional charges for support that isn't considered regular maintenance or monitoring. You can expect an invoice, in addition to the monthly fee, at the end of the month for the amount of time that was spent supporting your environment.
Select: in a select agreement, your monthly payment covers a specified amount of time allocated per month to your business. Any time that goes into supporting your network that goes over your allotted time will be charged at an hourly rate.
All-You-Can-Eat: this monthly fee is determined either by the amount of employees at your business (Five Nines' model) or amount of devices that are being supported, and covers all support (both onsite and remote) with no additional fees.
What hardware do you own?
A common trend throughout the managed service industry is offering hardware-as-a-service (HaaS), which means MSP's will place hardware within the environment that offers an added benefit of security and manageability. They'll do this charging a monthly fee for those services, which reduces the amount of capital needed up front to switch providers.
Always keep in mind what hardware is yours and what is your MSP's. This is helpful if you ever decide to switch providers, knowing you'll have to replace or buy that product from the provider.
Additional Monthly Services
Along with with the monthly support fee, there are some fairly common additional charges that will be on your managed service agreement:
Backups: backups are the most critical aspect of your environment and must be properly maintained in case of a data breach. Oftentimes, there is a separate charge for backup software and offsite storage costs, which are always worth the peace of mind to ensure 100% backups.
Additional Software: most MSP's are going to offer some variation of software that adds additional security benefits, such as antivirus and anti-spam tools. Five Nines includes both of those in their monthly support amount, but a tool like encrypted email is a service that you will be charged for.
These different pieces are generally what make up managed service agreements, but it's always important to carefully review all charges on a proposal or invoice. Having a clear understanding of what you're paying for will give you the peace of mind that your network has the proper tools to stay up efficient and secure.