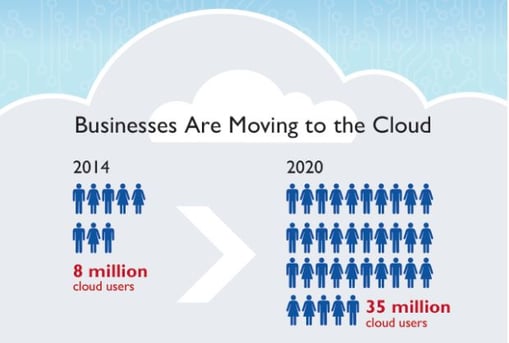 Great communication starts with the right tools. Unified Communication as a Service (UcaaS) is not a new concept nor is it a niche market, but a mainstream one already worth $4 billion in the USA alone. The cloud has become the preferred way of staying ahead of rapidly changing needs and increasingly sophisticated demands of customers. Businesses are finding that sticking with their legacy communication tools are becoming increasingly risky, with higher cost and liabilities.
So why invest an average of $878 per user in on-premise hardware if you don't really need it? Don't, here's why:
Your business-grade Internet connection is now plenty fast and reliable to trust it with your phone calls, and you can always have calls forward to mobile phones if needed.
You're probably already using Internet-based voice: Do you Skype, WebEx, Wifi-call, FaceTime, Discord, Mumble, or TeamSpeak?
It's scalable: 2 users or 500, UCaaS scales to fit you without any big cash forklifts.
You can have a handset on your desk if you prefer, or you can go fully digital using only your computer and/or mobile apps.
If you have multiple offices, all your calls between them are still part of the same virtual phone system, and thus are free (no long distance charges!)
What's the best solution to fit your business? Our R&D team has invested countless hours and resources on this very topic, and we have landed on 8x8. 8x8 is the leader in cloud communication, providing scalable solutions for SMB's to help consolidate and unify a wide array of communication and collaboration services onto a single platform.
Here are some of the other key reasons Five Niners chose 8x8:
8x8's SLA guarantees 99.99% service availability.
Calls are secure. 8x8 is HIPAA compliant and will sign a BAA, and has met several other major security standards.
Scalability for businesses from 1 - 1000
Why should your phone system features only improve every 5 or 7 years, when you spend tens or hundreds of thousands on a new phone system? It's all software; with 8x8 you're getting free feature enhancements regularly.
Ready to make the switch? If Five Nines is your Managed IT Services provider ask your account manager! If not, learn more about 8x8, here!
Still debating if you should upgrade to a cloud based option? Five Nines can help you decide.