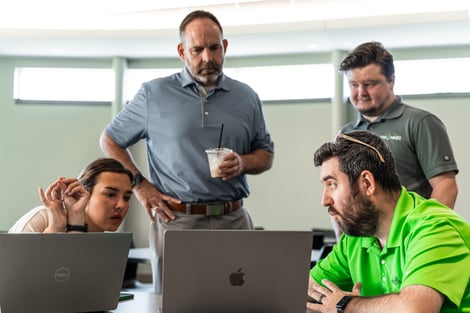 Unified Communications is an important business component meant to optimize processes and increase user productivity. It is something that relies on successful technology in order to be utilized to the fullest. As technology has evolved, so has the efficiency of Unified Communications, which is why Five Nines has made it a part of who we are and what we do.
You may be wondering, what exactly is Unified Communications? What is UCaaS vs. Unified Communications? How does it increase productivity? Is it something we already have or is it something we need? Keep reading, and we will answer these initial questions for you.
WHAT IS UNIFIED COMMUNICATIONS?
Unified Communications is best defined by Gartner as the products (equipment, software and services) that facilitate the interactive use of multiple enterprise communication methods. In simpler terms, Unified Communications is used when technology is helping automate and unify user and device communications to streamline processes and improve the end-user experience. It's meant to make life easier.
The term Unified Communications goes beyond the definition above, as these solutions can be delivered in two different methods which we will break down for you below.
UC VS. UCaaS
Simply stating the term Unified Communications (UC) represents on-site solutions requiring hardware and onboarding. Unified Communications as a Service (UCaaS), however, represents cloud delivered solutions. UCaaS has been growing in popularity in recent years, and while both are consistently used, there is a difference between both solutions.
For organizations who already have an established IT environment, it is sometimes preferable to integrate a UC solution into that environment, as they already have the pieces in place needed for a successful transition. UCaaS makes things simple which other businesses also prefer, as it is a solution where users simply have to download and log in. Brands such as Office 365 and Skype utilize UCaaS platforms. According to Grand View Research, the global UC market will exceed $75 billion by 2020. Some organizations will leverage both options, there isn't a one-size-fits-all solution when it comes to Unified Communications.
HOW CAN THESE INCREASE PRODUCTIVITY?
According to a Gartner report, businesses realize just 43% of technology's potential benefits. One benefit they may be missing is the increase in productivity UC and UCaaS provides. Here are some ways Unified Communications in all forms helps to increase productivity in the workplace:
Effective Communication: UC helps with the ability to communicate frequently, being aware of when colleagues are free or busy, and helps alleviate the stress of playing phone tag.
Flexibility:

UC allows for flexibility. Have remote employees? Giving them the ability to answer incoming communication from a variety of devices will help to increase productivity.
High Levels of Collaboration:

Interaction over multiple platforms is easy to do with UC, and helps promote collaboration across multiple teams in multiple locations through features such as visual collaboration and instant messaging.
Unified Communications and/or UCaaS are both technological assets that should be used within your IT environment. The more consistent, collaborative communication is supported, the more your organization will be able to get done in less time. Increase the level of communication and productivity for your business at the same time by utilizing a Unified Communications solution.
Building an efficient IT solution can make the difference between your workplace technology becoming an asset or a liability. LET US HELP!